Will Writing & Estate Planning
APS Legal & Associates Limited are part of The SimplyBiz Group and train hundreds of advisers a year, allowing them to offer will writing and estate planning directly to their clients.
Asking your client if they have a Will is standard practice for a financial adviser. It also appears standard practice that many clients will answer 'no', and will continue to answer 'no' every year you visit them. Putting off that important action of writing their Will is commonplace. Sometimes a client has a Will, but when was it last reviewed? Is there any planning gone into the Will? Is it tax efficient? Does it protect their assets against potential care fees or re-marriage?
As their financial adviser, all your hard work risks being undone if they die intestate (without a valid Will) or if a current Will isn't written to protect their assets.
According to the latest research from Unbiased;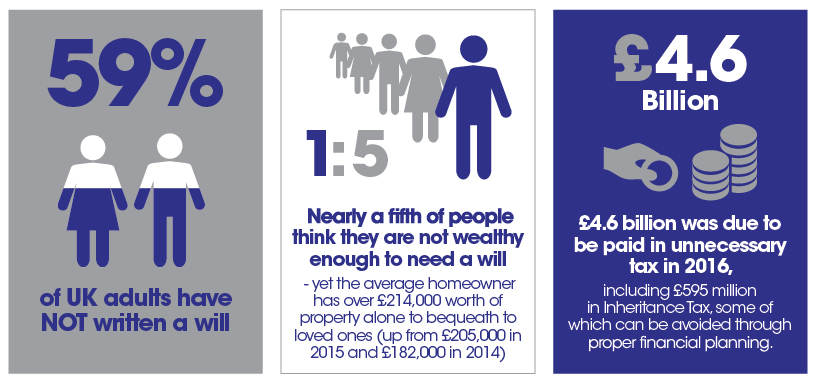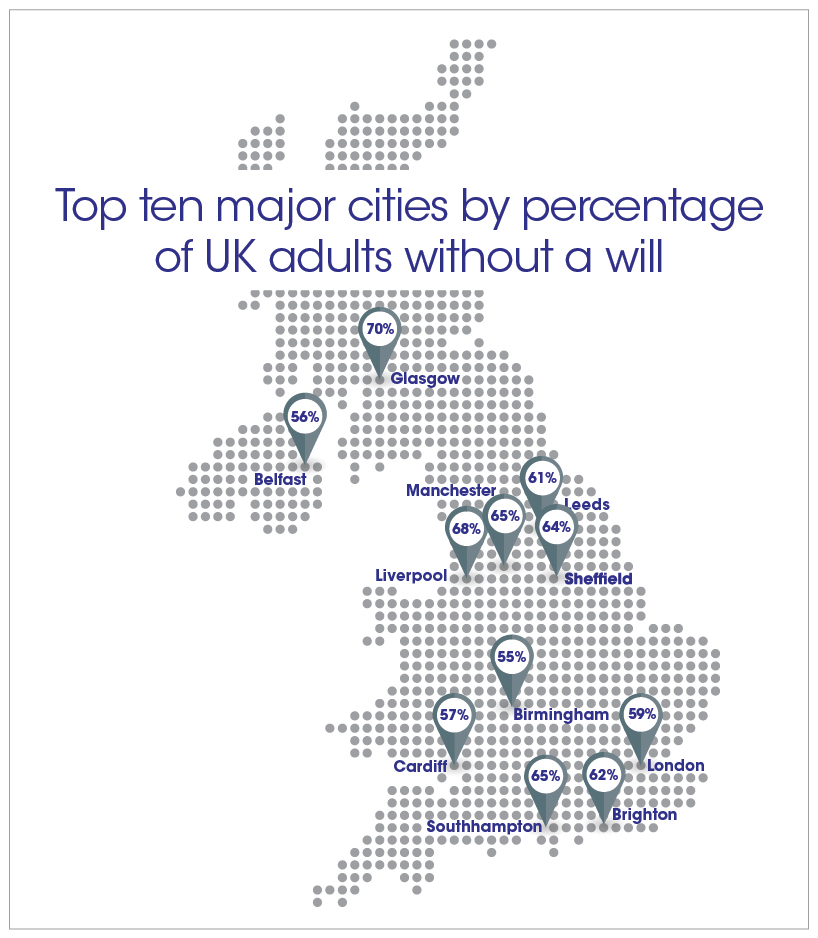 But what if you could offer an Estate Planning service to your clients?
Many financial advisers are focussing on post death planning and are now adding Will writing and Estate Planning to their services in order to ensure that the correct content is in their client's Wills.
APS Legal & Associates Limited have set up a ready-made business which is simple and cost effective for you to offer personal legal services to your clients and to enhance your income.
How long does it take a financial adviser to train to offer Will writing and estate planning?
APS Legal & Associates Limited have trained hundreds of financial advisers to offer Will writing and estate planning through a regional 3 day course.
After attending our three day course and passing a short written exam with a role play exercise, you will be able to advise clients on the legal aspects of estate planning and take instructions for legal documents. We produce all the legal work for you.
We have set up a ready made business which is simple and cost effective for you to offer personal legal services to your clients and to enhance your income.
You can provide our services directly to your clients and we will happily develop and support you and/or your staff to become fully qualified Associates.
We will put you through our exclusively designed IFA 3 day training course where you will receive an industry recognised qualification. We will provide all the ongoing support required for you to provide a complete Estate Planning service to your clients. There is just a one off Licence and Training fee to become an Associate. This will include amongst others the following:
The knowledge, skills and confidence to provide comprehensive advice and take client instructions
A full 3 day training course to include examination and refreshments
The professional production of Wills, Trusts and other associated legal documents
A complete 'back office' function, including reception, secretarial and administration support
The use of the company's corporate identity
Membership and accreditation to both our membership bodies. Provision of a practicing certificate and the right to use their logos on stationery and advertising material.
Full lifetime professional indemnity insurance (to £2.5 million) and public liability insurance (to £1 million), providing you operate within the conditions of the Associate agreement.
Ongoing legal, technical and mentor support
Internet based information service, The Associate Information Centre (AIC)
Ongoing CPD (Continuing Professional Development)
Continuation training provided on a regular basis
Residual income
Associate opportunities from week one - further access to new clients for your financial services business including executors, witnesses, trustees and guardians named in your clients' Wills and other associated legal documents.
What does the 3 day course cost?
There is no cost for the course; this is embedded in a monthly licence and support fee of £79.00 per month for the first year (contracted for the first 12 months) then this drops down to £35.00 per month from month 13 onwards.
Why else should a financial adviser offer Will writing and estate planning to their clients via APS Legal & Associates Limited?
Earn fantastic fees
We produce the Wills for you
More financial business and referrals
A great way to re-connect with your client bank
Offer your clients a service where you can take Lasting Powers of Attorney
"I recently attended the APS Legal & Associates Limited 3 day training course and have already booked my first appointments. I'd recommend the course to any financial adviser. It is a great excuse to go back and see your clients" - Alan Blackwell (IFA) - Shawcross Blackwell Financial Advisers
Martin Pickles, Technical Adviser at the SimplyBiz Group provides some insight on what you learn and the benefits of attending the course.
If you don't want to train to become an Associate
You can also make referrals and receive commission. Simply pass on all your Will Writing and Estate Planning enquiries to us. We would then provide basic advice over the phone and put your clients in contact with our local professional and independently qualified Associate, who would arrange a free no obligation consultation in the comfort of your client's own home.
Our independently qualified consultants are handpicked, so you can be safe in the knowledge that your clients will get a professional and courteous service. The key to our success in the local market, is also in our ability to generate further referrals for the introducing IFA, building long term relationships, so you not only benefit from monthly commission payments and residual income, but also the possibility of new clients introduced by our consultants.
Introducers will earn 15% for all referred cases for Wills and other associated Legal documents and 17.5% for Probate and Estate Administration cases.